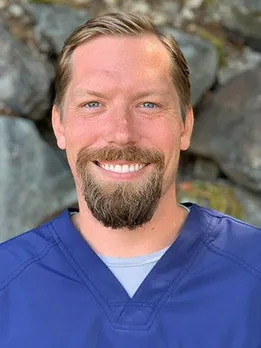 About Dr. Brolen & Team
Dr. Brolen Freimanis was born and raised in the beautiful Pacific Northwest, along with his wife, Dana. Together they have three boys: Oden (6), Kato (4), and Tyr (1). For fun Dr. Freimanis enjoys mountain biking, hiking, skiing, camping, cycling, kayaking among other outdoor activities. When not playing with his boys, or on a family adventure, you can find him working in the yard.
Dr. Freimanis attended the University of Washington, where he earned a Bachelor of Science degree in Biology and a Doctor of Dental Surgery, where he graduated with honors. After graduation he completed the Northwest Dental Residency program in Yakima, WA earning his Advanced Education in General Dentistry (A.E.G.D.). Dr. Freimanis then lived and worked in Bend, Oregon for one year before settling down in the Duvall area.
Dr. Freimanis stays on the cutting edge of the latest dental treatments and continues to advance his clinical skills through participation in a Spear dental study club, continuing education, and continuous review of professional publications.
Dr. Freimanis is an active member of the Seattle King County Dental Society, the Washington State Dental Association, and the American Dental Association.
"Our Team's Mission is to create a welcoming and comfortable environment while providing honest dental treatment. Our goal is to meet you where you are and help improve your smile, improving your overall health."
---